Introduction
Internet Ethics or Cyber Ethics can be described as acceptable behavior standards to be followed by digital users while using the internet. They help digital citizens stay safe online by setting up a set of moral principles that govern the usage of Computers and Internet.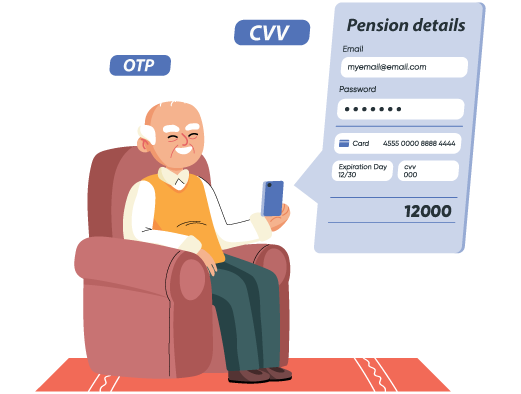 Mentioned below are some of the major ethical online practices that are recommended to be followed by any digital user-
Acceptance
There are multiple advantages of the Internet including sharing knowledge, information & learning, shopping, entertainment, connectivity with friends, family and others. The action of consenting to receive or undertake what Internet offers as Internet belongs to everyone and there is no barrier of national and local cultures.
Seniors using the Internet on a daily basis admit to strongly feeling as if the Internet makes it easier to find information and stay connected with friends and family to combat this feeling of isolation using social networking sites, news, online streaming platforms, video calls for mental health and also internet used to paying bills, renew retirement benefits, accessing bank account, insurance claims, health records, claim submissions etc.,. They must accept that there are online fraudsters who lure senior citizens targeting their hard earned savings.
Security tip: Senior citizens must accept that there are online fraudsters those targeting only senior citizens to lure their hard earned savings
Sensitivity to National and Local cultures
Internet users should be aware, sensitive, thoughtful and understanding about the differences in the national and local cultures of the netizens they get to meet in an online world. This will help develop a positive and friendly online environment /space leading to fruitful interactions and dynamic cyber society with unity in diversity.
Senior citizens should be able to encourage and educate the children and youth about accepting and respecting the differences in cultures and nationalities and be accommodating to foster a healthy online society and community.
Security tip:Senior citizens should play their role in guiding the younger generation to foster a harmonious, healthy and friendly online environment that is accepting of differences in cultures and other factors
While using Email and Chatting for Communication
Internet must be used for communication with family and friends. We should not use the internet chatting for communicating with strangers and should not forward the emails from strangers. And we must teach children on risks involved by chatting or forwarding emails to strangers
Conventional modes of communication are advised for this category and it's better to avoid chatting for communication.
Security Tip:Do not install any Use the chat application on your personal devices to communicate only with friends and family to avoid any theft of personal data
Do not pretend to be someone else on digital space
As digital users we should be aware that the internet is a global medium used for knowledge sharing, interaction, communication, trade, commerce and education. It is necessary that all the users using this medium adopt trustful and truthful means of interaction & communication to promote a healthy, vibrant, positive cyber space that is conducive for growth and progress.
Elders and senior citizens should be careful, cautious and alert while using internet and online platforms. Never forward any unverified messages, news or links regarding pension benefits, insurance policies with greater benefits or maturity benefits to others without verifying the authenticity properly.
Security tip:Be careful and alert while using the internet and do not forward news, links or messages regarding any benefits as received from others without verification
Avoid using bad language on public platforms
Being kind and considerate is a basic human value or moral principle that we are taught in the physical world; the same applies to the cyber world too. While interacting online, digital users should remember not to be rude or use bad language while using email communication, chatting, blogging and social networking.
Also as digital citizens of the cyber world, we should remember that the internet cannot be subject or restricted to one place or state or country, it is a global village with no barrier of national and local cultures. Hence we have to accommodate diversity of usage with kindness and consideration.
Elders in the family should guide the children and youngsters to put up good behavior online that reflects in their online interaction.
Guide the children and youngsters to adopt good behavior and manners in the online world
Protection of Personal Information
Digital users should ensure protecting their sensitive personal information and restrict sharing information such as home address, phone numbers, email, passwords, photographs to anyone in public platforms while accessing the internet.
Avoid disclosing your passwords, OTP, PIN, debit/credit card details, insurance or pension related details with anyone claiming to help you complete an activity or updates online for some benefit as it can lead to financial fraud.
Security tip:Do not respond to calls or emails requesting for financial related information or PIN/OTP on any pretext.
Be careful while accessing online content and app downloads
As digital users, we make use of the internet to learn & gain knowledge, play games, watch movies, listen to music, etc.,. With access to a vast variety of content, as responsible digital citizens we should be aware of copyright policy and be careful to follow it downloading applications, music, software etc., from the internet.
Copyright is a form of legal protection for the intellectual property rights of authors of original works. Internet copyright laws give the original authors or artists the right to exclude others from copying their work. While using internet, one should be aware and consider the same
Senior citizens should try to become aware about basic copy rights related policy so that it helps them while guiding their grandchildren with any content collation or using online content for sharing among friends/peers in social media groups/platforms.
Security tip: Become aware about basic copyright related policy while using online resources.
Supervision of the Internet usage
Supervision of internet usage and taking appropriate guidance from responsible and aware members, regarding acceptable, ethical and secure ways of accessing the internet can contribute to right usage of the internet. This can help in safeguarding children, students and other members from falling prey to online threats and provide them with appropriate precautions to be taken.
Senior citizens should take required effort to acquire the required knowledge regarding appropriate use of digital devices. Also when required they should seek support and supervision of trustable and digitally aware adults for operating with digital devices for different online activities like accessing bank accounts and transactions.
Security tip: Seek support from responsible, trustable and digitally aware people when required for operating online safely.
Encouraging safe usage of internet
The Internet is the perfect place for different activities – it's a best place to gain knowledge and learn about new things; it's a best medium that helps interact and collaborate with people across the world, it is a very good source of entertainment and communication; also there are several online services that helps trade, commerce, business; an Internet connection allows many people to work from home or have a virtual office or attend online classes etc., There are innumerable benefits of internet that can help people, economies, business, governance etc.,
Hence usage of the internet should be encouraged among people for optimum utilization of its benefits for progress and growth.
Senior citizens can make use of the internet to connect and communicate effectively and easily with peers and friends. They share their valuable advice & suggestions on online forums and access services at doorstep and explore or know about unknown or new things easily.
Security tip:Use the internet to connect with peers and friends and access services at doorstep.
Accessing Internet
Internet access is the ability of individuals and organizations to connect to the Internet using computer terminals, computers, and other devices to access services such as email and the World Wide Web
Because of the growing technology as well as its availability, almost everyone has access to the Internet. There are varied groups of Internet users based on Age, Gender, Profession and other various requirements. All of them need to be cautious while accessing the internet, here we will brief up on various measures to be taken while accessing the Internet for various stakeholders.
It is advised that senior citizens access the internet with utmost care and caution with proper assistance when required, since there are so many developments and advancements coming up on the Internet which they may not be aware about, which may lead to financial frauds, identity theft or malware attacks.
Security tip:Always keep yourself updated on latest online security threats and never share the financial credentials and other pension related sensitive information to anybody over phone or while accessing Internet.