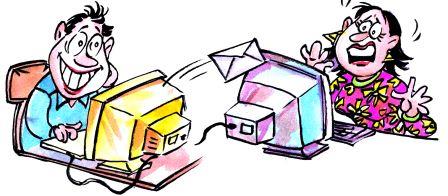 Online predators are internet users who exploit children and teens for sexual and violent purposes. This may include child grooming, engage in sexual activities, unwanted exposure of materials and pictures, online harassment, threats to cause fear or embarrassment . It is online harassment.
Communication tools used by online predators
Online predators use communication tools like social networking, email, chat rooms, instant messaging and also use grooming process for personal meetings.
By using social networking web sites : Social networking web sites are popular for expressing user's views, to post and share photos, and videos over websites. Online predators take advantage of these web sites and pretend to be a child and make online friendship and try to collect your personal details and gradually introduce sexual communications and engage you in sexual activities.
Tip : Always take security measures like privacy settings and set the limited view of your profile.
By using e-mail address : An online predator collect the email addresses of children and starts sending them photographs, links related to porn sites and try to abuse the children and insist child to involve in sexual communication by threats and makes children feel uncomfortable.
Tip : Ignore or delete the mails from unknown users.
Through Chat rooms : Online predators join into chat rooms and start chatting with children and try to pretend as a child to collect the personal information, build trust and try to be a good friend by asking about child's interests, hobbies, personal photographs, ask for private chats, offers gifts. Sometimes the predators will be very kind and affectionate toward a child and gradually introduce the sexual content in their conversation and ask a child to maintain secrecy by not informing parents. If a child doesn't agree they may threaten and abuse them into submission.
Tip : It is suggested to hide personal information like interests, hobbies and family details to online friends.
By Grooming Process : An online predator builds a false trust, relationships and breaks child's resistance and tries for iface to face meeting.
Tip : Do not get lead by any strangers into changing your habilts and thoughts,Take your parents if you want to meet your online friend.
Threats by online predators :
Online Predators make threats when you no longer want to chat with them and start forcing you for in person meeting by issuing threats to harm your family members and friends.
Tip : Don't be scared of threats inform your parents and report to police.
How to prevent online predators? : If someone offers you gifts or without any reason wants to meet you and try to be very affectionate – these may be signs of an online predator
Recognize the techniques tried to mislead you : If someone offers gifts and if some stranger for no reason asks you to meet personally and triesto be very affectionate, be aware that these are the tactics of online predators , they are trying t o mislead you.
Use nick names : Make sure to choose the user names without using your real names.
Don't fill your personal details in your online profile : Don't post your personal details in social networking where everyone can see your details.
Set rules for online chatting : Set rules like time limit and use Internet under guidance of parents and make sure the computer is placed in the common room.
Avoid chats like gender, problems at home and schools : Always avoid the topics related to your gender, age, location, and don't share problems at home and school.
If you are threatened
Don't fear : Be cool, stop chatting and get out of the chat room or log off.
Don't be scared to say no : If you are not willing to do things asked by predator don't be scared to say no.
Inform to parents : If some one threatens you, immediately inform your parents.
Take a screen shot of your conversation as evidence and tell you will report to police : If someone uses bad language or threatens, take a screen shot of your conversation and tell them that you would report to police.
Don't log off : If someone tries to abuse you don't logoff immediately, inform parents and inform the law enforcement.

Contact cyber police : If something goes to the extreme like threatening to harm family members, immediately contact cyber police.