Online scam is an attempt to trap you for obtaining money. There are many types
of online scams; this includes obtaining money with fake names, fake photos, fake e-mails, forged documents, fake job offers and many more.
Generally, it happens by sending fake e-Mails for your personal details like online banking details, credit card details. Sometimes e-Mails are sent from lottery companies with fake notice, whenever you participate in online auction and e-Mails received for fake gifts. Cyber criminals use social media platforms for duping naive and gullible people.
How scammers target women
Dating and romance scams
This often takes place through online dating websites, but scammers may also use
social media or email to make contact. They have even been known to telephone their victims as a first introduction. These scams are also known as 'catfishing'. Scammers typically create fake online profiles designed to lure you in. They may use a fictional name, or falsely take on the identities of real, trusted people such as military personnel, aid workers or professionals working abroad. They will express strong emotions for you in a relatively short period of time. They will go to great lengths to gain your interest and trust, such as showering you with loving words, sharing 'personal information' and even sending you gifts.
Once they have gained your trust and your defences are down, they will ask you (either subtly or directly) for money, gifts or your banking/credit card details. They may also ask you to send pictures or videos of yourself, possibly of an intimate nature.
Lottery scam
Sometimes you receive an email/SMS like "you won a lottery" receiving such a kind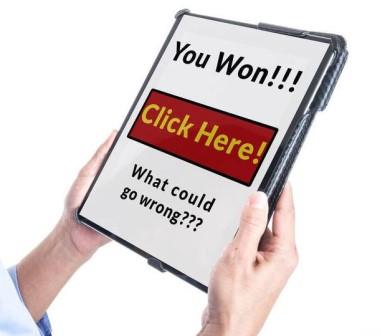 of mails/SMS is a great thing, and really it's a happiest thing. By responding to such a kind of mails/SMS huge amount of money will be lost. Because these e-Mails/SMS are not true, scammers try to fool and trap you to obtain money.
Fake quizzes that extract your information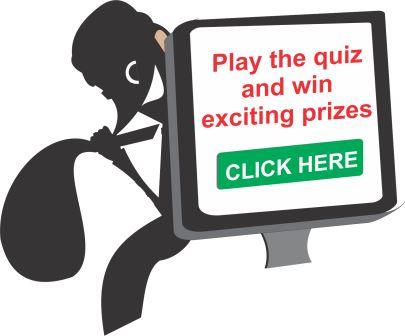 You must have seen those posts and quizzes inspired by movies or video games. Basically, you answer a set of questions and then the quiz tells you what movie character you are or some other personality assessment. Often times, these quizzes are fronts for privacy scams that collect your answers and then sell them to third parties. Many of these quizzes come with a "Login with Facebook" button in order to do the quiz. This gives the website/app pretty much all of your important information such as emails, location, language, job and so on.
Email Scam Like -- Congratulations you have won Webcam, Digital Camera, or cash prize of unbelievable amount etc.
Sometimes you get an e-mail with a message like -- you have won something
special like digital camera webcam, all you need to do is just visit our web site by clicking the link given below and provide your debit or credit card details to cover shipping and managing costs. However the item never arrives but after some days the charges will be shown on your bank account and you will lose money.
Tax scam
Victim is contacted by someone claiming to be from a governmental agency saying that money is owed for taxes, and it must be paid immediately to avoid arrest, deportation or suspension of driver's license/passport. The victim is instructed to send a money transfer or purchase a pre-loaded debit card to pay the taxes. Government agencies will never demand immediate payment or call about taxes without first having mailed a bill.Generally, websites feel like official websites and seek the details of credit card, CVV PIN of ATM and other personal details of the taxpayers in the name of crediting income tax refund through electronic mode.
Passive fake friends and followers that monitor your account
You might have friends in social media whom you never actually met and don't
know who they are. Criminals can exploit this carelessness by befriending you and then monitor your account to collect information and see what you're up to. In particular, they will be on the lookout for vacation photos outside your home city or country, which means your house is probably empty and ripe to be broken into.
Money flipping scams
This kind of scams particularly seen on Instagram, money flipping scams work by promising a user huge returns if he would just deposit a small sum as an initial investment. The scammer claims to be a financial adviser or an Internet marketer, with inside knowledge on how to manipulate exchange rates and stock prices in order to get a 10x return on investment. And all you have to do is to simply deposit some money, usually a minimum amount.
Fake job offers
Users on social media are primarily there to improve their hiring prospects, so
receiving a job offer isn't something out of the ordinary. However, some scammers simply hire you for a few weeks, only to fire you a few days before your first pay checque. Usually, these fake job offers promise you to the opportunity to work from home, and even come with a sizeable salary package. In other cases, these might be project-based work, so you first have to do the work, and only then will you get paid. As you can imagine, however, the pay never comes.
Charity scam
The victim is often contacted by email, mail or phone by someone asking for a donation to be sent by money transfer to an individual to help victims of a recent current event, such as a disaster or emergency (such as a flood, cyclone, or earthquake). Legitimate charity organizations will never ask for donations to be sent to an individual through a money transfer service.
Rental Property scam
Victim sends money for deposit on a rental property and never receives access to the rental property or the victim may also be the property owner who is sent a checque from the renter and asked to send a portion of the checque back using a money transfer and the checque bounces.
Tips to Prevent Online Scams
Be alert to the fact that scams exist.
When dealing with uninvited contacts from people or businesses, whether it's over the phone, by mail, email, in person or on a social networking site, always consider the possibility that the approach may be a scam. Remember, if it looks too good to be true, it probably is.
Know who you're dealing with.
If you've only ever met someone online or are unsure of the legitimacy of a business, take some time to do a bit more research. Do a Google image search on photos or search the internet for others who may have had dealings with them
Confirm whether email is received from bank or not
Be cautious while providing bank details online, before proceeding further confirm with the bank about the email you received. Think that if something is important or urgent why doesn't the bank call me instead of sending email?
Do not open suspicious texts, pop-up windows or click on links or attachments in emails – delete them
If unsure, verify the identity of the contact through an independent source such as a phone book or online search. Don't use the contact details provided in the message sent to you.
Review your privacy and security settings on social media.
If you use social networking sites, such as Facebook, be careful who you connect with and learn how to use your privacy and security settings to ensure you stay safe. If you recognise suspicious behaviour, clicked on spam or have been scammed online, take steps to secure your account and be sure to report it.
Be aware about the product you received via email
Be aware about the products you get for a discounted price. Think why you received email for products when you never enter any online shopping or contest.
Don't be trapped by lottery/job scam
Don't get trapped by scammers and e-Mails with a subject line you won, just think why only you received the email without your participation
Be careful when shopping online
Be cautious while providing bank details online, before proceeding further confirm with the bank about the email you received. Think that if something is important or urgent why doesn't the bank call me instead of sending email?