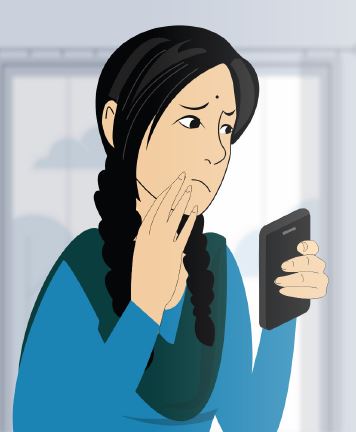 About Cyber Flashing
Cyber flashing is a form of online harassment, wherein unsolicited sexual and obscene images like genital parts or pornographic images or videos, are sent over WhatsApp or airdrop feature of iPhone. It is possible that you are being stalked or targeted by an unknown person who is nearby you.
Why should we be concerned?
You are troubled by the unknown person with obscene media, that causes fear of attack on your modesty by a stalker who may be around you.
Few pointers / warning signs
Receipt Media (messages, pictures, videos etc.,) from an unknown number.
The content of the media is obscene and sexual in nature.
What measures can we take to safeguard ourselves against cyber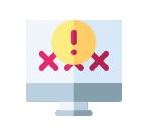 flashing?
It is important to know the ways to ensure your safety against such crimes as it can be a ,disturbing and shocking experience. They include -
Disable or turnoff your Air Drop feature on your iPhone
- Go to 'settings' > tap 'general' > tap 'Airdrop' > tap 'receiving off'
- Go to 'control centre' > access network settings square > tap 'on Airdrop > tap on 'Receiving off'

Do not receive WhatsApp video calls from unknown numbers.

If WhatsApp video calls come continuously from unknown numbers; you can ask some of your male friends to receive call.

Enable your security and privacy features online
Like for setting up screen lock and privacy protection/private mode
- Go to settings > go to Lock screen & password/security > choose set screen lock option
- Go to settings > go to Lock screen & security > choose private mode / privacy protection option
( pl. note that different mobiles will have variations in terminology n approach for using its features)
Refer website for info.: https://www.androidauthority.com/android-10-privacy-features-1025443/

Disable your location services when you are posting online
- Go to settings > choose location > turn off/disable location
- go to settings > go to app permissions > choose location permissions > choose the app to disable the location permission.

Save the snapshot for evidence to report it later on

Disable auto download of media option in your WhatsApp
- WhatsApp > Setting > Data and Storage usage > Media auto-download > Choose "No Media" when using mobile data, when connected on wifi and when roaming

Do not click on images and videos received from unknown numbers in WhatsApp
What action can you take in case you find yourself affected by online Cyber flashing?
a) Register a complaint at your nearest cyber crime police station
b) You also have the option to register an online complaint on cybercrime.gov.in anonymously also.
Know about what the law says with regard to this offence?
There is a combination of various laws that can possibly be used to tackle such incidents, primarily under the Indian Penal Code, 1860 and the Information Technology Act, 2005.
The specific provisions that may apply to cyber flashing under both the legislation to specific demographics are discussed below:
Indian Penal Code
a) For women
Section 509 of the IPC deals with words, gestures or acts intended to insult the modesty of a woman. As per the section, whoever, intending to insult the modesty of any woman, utters any words, makes any sound or gesture, or exhibits any object, intending that such word or sound shall be heard, or that such gesture or object shall be seen, by such woman, shall be liable for punishment.
Acts such as cyber flashing of genitalia, pornography and sexual sounds fall primarily under this section of the law. This is the section which has been previously applied by the police in instances of cyber flashing along with Section 67 of the IT Act.
Section 354A(iii) on the other hand provides that a man who shows pornography against the will of a woman, shall be guilty of the offence of sexual harassment and shall be punished.
Cyber flashing pertaining specifically to pornography, including pornographic content hidden in videos, links or files appearing to deal with some other subject matter on the surface, or in cases where the sender convinces the receiver to open a file or media, misleading them to believe that it contains something other rather than the pornographic content hidden in it, is most likely to be held liable under this Section of the IPC.
Exposing a woman to pornography against her will over video call should also technically fall under the ambit of this section.
b) For children
In the case of children, Section 293 of the IPC provides punishment for whoever distributes, exhibits or circulates to any person under the age of twenty years any obscene object, or attempts to do so. This section should reasonably apply to cyber flashing of pornography, genitalia and other such obscene objects to children.
The Information Technology Act, 2000 (amended in 2008) – ITAA
Most of the provisions of the IT Act are largely gender-neutral. Thus, the sections mentioned below apply equally in the cases of men, women and children.
Section 67 of the Act prescribes punitive action for publishing or transmitting obscene material in electronic form. Cyber flashing of genitalia or other similar obscene or repulsive items shall fall under this section. This section has been previously used by the police to book offenders of cyber flashing.
Similarly, Section 67A deals with punishment for publishing or transmitting of material containing sexually explicit act, etc., in electronic form. Cyber flashing of pornography shall attract this Section of the IT Act.
In the special circumstance where one gets cyber flashed with child pornography, Section 67B, which provides for punishment for publishing or transmitting material depicting children in sexually explicit act in electronic form, along with Section 13 read with Section 14 of The Protection of Children from Sexual Offences (POCSO) Act, 2012, which pertain to the issue of usage of children for pornographic purposes, shall also apply.