Contactless payments through credit and debit cards
About contactless payments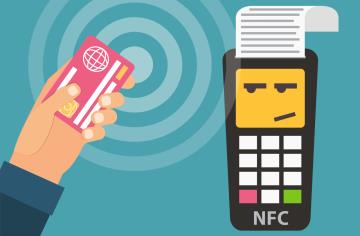 In the current COVID times, contactless payments are becoming a new norm. The credit and debit cards enabled with the Radio Frequency Identification (RFID) make use of this feature, where the user just needs to just tap the card near a point-of-sale (POS) terminal or device equipped with this technology, to make the payments. The user need not provide any PIN or Passwords for successful payment in this case.
While this tap-and-go payment option has its advantages, the users need to be aware and alert about its safe usage practices, to avoid misuse of this feature by fraudsters for committing financial frauds.
Threats of contactless payments
Ways in which fraudsters may misuse contactless payment feature to commit financial frauds
Carry out the transaction without the knowledge of the user using POS terminal or Mini-card reader.
The misplaced/lost/stolen cards can be easily misused by fraudsters for unauthorized transactions, as it does not require any PIN or Password.
Fraudsters can bypass the maximum transaction limit by using a technique known as "Man in the middle attack" using a specialized hardware to capture and insert messages.
Security tips
Enable the mobile banking app based control (if available) to disable contact-less payment when not in use and cap the transaction limit.
Use special wallets/holders that can provide protection against unauthorized contactless transaction access and skimming
Always keep track of your financial transactions, be alert about any update on unauthorized transaction and regularly verify account statements.
Immediately block the card and report to your bank in case of theft or loss.
You may call the helpline number 155260 and report about the financial fraud.
You may also register an online report about the financial fraud on National Cyber Crime Reporting Portal (cybercrime.gov.in)
Ref: Forbes